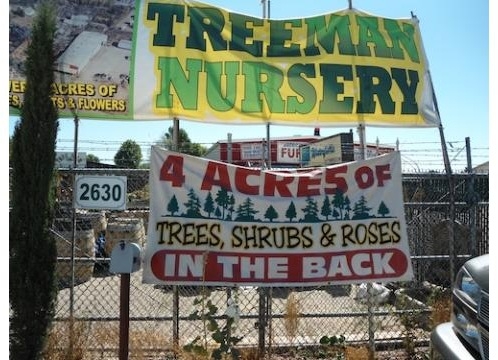 2630 Ramada Dr, Paso Robles, CA 93446
The Tree Man nursery is a full service non-pesticide nursery located off Highway 101 in Paso Robles. With over four acres of plants, tree's and bushes, you name it we have it. We are a family run business with over 30 years of nursery experience. We will help you find the right plants, fertilizer and instructions for continued care.
Pesticide free nursery. We use live chickens, roosters and our beautiful turkey to control pesticides with zero chemicals. Over 400,000 plants in stock.
About:
We are family owned and operated and all our staff is friendly, helpful, and knowledgeable. We began back in 1985 as a small garden center in Templeton. We grew by leaps and bounds as home gardeners found us a better place to visit than the chain store garden centers. Now we have over 400,000 plants, shrubs and trees spread over four acres right off the Highway 101 in Paso Robles.
Zan graduated from UCLA and has over 30 years in experience with plants, and remains the unanimous north country expert on plants and horticulture. Her thriving need to gain more knowledge about her craft, drives her to answer your questions and if she cant she will find the answer, through her extensive network of experts.
Testimonials:
"This place in incredible! What a selection of plants and garden goodies. I just can't resist the plants and trees, and if Zan starts to tell a story you are in for a real treat. Be sure to go all the way to the back. It seems to never end." – Charlie C.
Offers:
Free design service. Here is how it works: Take a photo of the area you want to landscape and print it. Then bring it in and we will draw in the plants, shrubs and trees that will work for your available space and your micro-climate. Its simple but it works.
Services Offered:
Nursery
Garden Supply
Landscape Supply
Trees
Plants
Bushes
Statues
Benches
Fountains
Gnomes
Knights
Hand Carved Marble
Payment Accepted:
Cash
Check
Visa
MasterCard
Discover
American Express
Parking Situation: