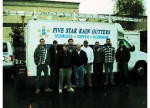 3226 El Camino Real, Atascadero, CA 93422
When it comes to our gutters, when we say custom, we mean it! Everything we do is custom. We offer any type of gutter you could dream of for your home, and we can also help provide it for you. We proudly boast of 80 different color options and 6 different styles to choose from. We also fabricate the gutters ourselves!
Review:
"The folks at five star did our entire house's gutters. The end product is great. They did a nice job and at a good price (I believe the best price in the county). They came recommended to me from a friend and I would recommend them as well. A few important notes. First, don't call in the middle of the rainy season and expect to get gutters right away. They're booked solid because they do a good job but be prepared and call them before the season. It also takes some time to build the gutters. Dave is very knowledgableand his crews were on time and thorough. I misguided them on a section and they were perfectly happy to come out the next week and redo it for me so it would be done the right way."
" I have to say that Five Star Rain Gutters was definitely 5 stars for sure. Everyone there is friendly and willing to go the extra mile. Melissa was great! She made sure everything was set from the estimate to the scheduling of the install. They got the estimate done quick and I had told them that I'd call them with it was time to install. After my roof and fascia boards were replaced, I called them back to schedule a day to have them install the gutters. From that call, they were able to come out in 10 days! Wow! That's fast! The installers arrived exactly on time. Andy (the foreman) was fantastic. Before they started, he took me around the house and showed me exactly what was planned per estimate. He was spot on. He said they would finish up at 3:30 p.m. and sure enough, he was spot on again.
"They installed the gutters, downspouts, gutter screens and it all looks 5 star beautiful! Cleanup was 5 star, and they even went and cleaned off any smudges from gutters making the gutters sparkle. The guys did a fantastic job and I would highly recommend them to do your rain gutters. Did I mention they were very quite on the roof and property. No stomping on the roof which I really appreciated since it was a new roof. I did observed them carefully walking on my roof. Thanks Five Star Rain Gutters!"