1124 Garden St, San Luis Obispo, CA 93401, United States
1124 Garden Street
San Luis Obispo
California
93401
US
Women's Clothing in San Luis Obispo
Consignment Store in San Luis Obispo
Dare to be as fabulous on the outside as you are on the inside
Finders Keepers has a diverse selection of elegant, fashion forward items you won't find in any department store. To complete your outfit, Finders Keepers carries new items such as jewelry, scarves, and other accessories.
History:
Finders Keepers Consignment Boutique opened its doors in 1998 on Garden Street in the picturesque town of San Luis Obispo, California. The owner, Debra Fogg, expresses her love of fashion and impeccable taste by creating a high-end women's resale shop that feels more like an upscale designer fashion boutique. The difference is the clothing in Finders Keepers is previously owned, affordably priced, and you won't find high-pressure sales people, but instead, a warm, attentive staff to help you find clothes you love!
Services Offered:
Carrying many brands such as; Max Mara, Joie, and Eileen Fisher. Consignment and boutique women's clothing.
Testimonials:
This shop is amazing…full of high end beautiful things carefully selected by the owner, Debra. She has impeccable taste and knows how to make you look fabulous!
Carol Ward Garland
Love the gorgeous Kate Spade dress that Debra encouraged me to get to wear at my daughter's graduation.
Judy Taylor
I discovered Finders Keepers 14 years ago when I first moved to the Central Coast, and it's still my favorite local boutique. My heart beats with excitement whenever I walk into the store, anticipating the hunt for treasures. The warm staff will help you find the perfect piece, or if you prefer, leave you alone to browse the continuously changing racks of current fashions. I tell my friends and style makeover clients that anything you fall in love with at Finders Keepers you can afford, so it's guilt-free shopping!
Linda Waldon, Fashion Stylist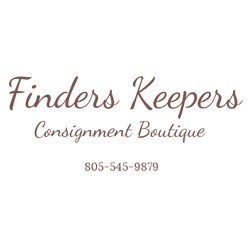 social media logo - womens clothing san luis obispo.jpg
5 years ago
womens clothing in san luis obispo - plant.jpg
5 years ago