Edie Knight charged with two misdemeanor counts of violating elections code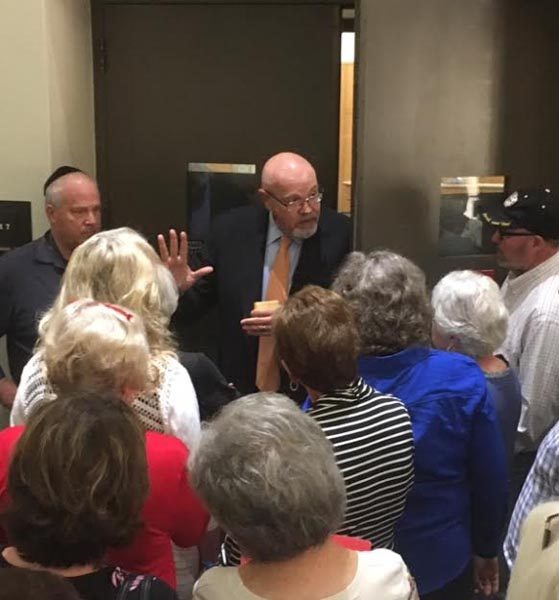 –More than seventy people gathered at San Luis Obispo Superior Court for the Trial for Edie Knight Tuesday afternoon. The 86-year-old Atascadero widow is charged with two misdemeanor counts of violating California elections code. She allegedly called people from the lobby of the Elks Club during November's election and encouraged to "come down and vote." Because of conflicts, the courtroom was changed. The ultimate courtroom only held 25 spectators. The first people to fill the room were prospective jurors. As they were excused, a few more spectators were admitted.
Defense Attorney Ilan Funke-Bilu explained the choice of a small courtroom to angry supporters of Edie Knight. When challenged, he apologized and described himself as "only a humble, country lawyer." The state's attorney, Amir, is a young man who recently graduated from USC. This may be his first trial as a prosecutor with the State Attorney General's office. Tuesday, the court selected a jury. Judge Craig van Rooyen excused potential jurors who had health or financial hardships. Then, attorneys Funke-Bilu and Amir excused jurors they felt were not helpful to their case. About ten people were excused before 12 jurors and two alternates remained.
Yesterday's jury selection demonstrated a clear difference between the two attorneys. In Funke-Bilu, Edie Knight has an experienced, affable defense attorney. The prosecutor was the first to acknowledge his own inexperience. He asked the prospective jurors if his bungling would sway their decision. After the day's proceedings, however, Ilan Funke-Bilu told KPRL he never underestimates a prosecutor.
The trial resumes today at 10 a.m. Wednesday in San Luis Obispo Superior Court. Thursday, the trial will begin at 1:30 p.m. Because of conflicts on Judge van Roonyen's calendar, there will be no court session on Friday.