Clearer skies in the forecast for Atascadero
– Clearer skies are in the forecast again for Atascadero starting tomorrow, according to Weather Underground. Trace amounts of rainfall are in the forecast today, expected to total around .06-inches. Another chance of trace amounts of rainfall is in the forecast Wednesday night. Overall, this week's forecast is fairly sunny, a welcome reprieve from the last week of rain that has caused havoc in North County and across the state: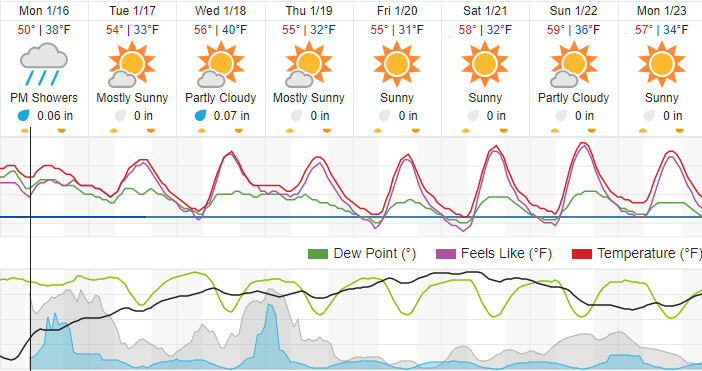 Click here to view a 10-day forecast on Weather Underground.
Schools in San Luis Obispo County are operating as usual this week.
So far, just from reported losses from government agencies, the estimated losses and response costs stand at $46-million dollars, according to the county.
Wind advisory
A wind advisory remains in effect until 9 a.m. today, according to the National Weather Service. Areas under advisory include the Central Coast of San Luis Obispo and Santa Barbara Counties and interior San Luis Obispo County. Expect south winds of 15 to 25 mph with gusts of 40mph.
Road closures
Numerous roads and bridges remained closed throughout San Luis Obispo County. See the county's updated map here for details.
Power outages
PG&E is still responding and repairing damage from earlier storms, but most areas with outages have had their power restored. For the latest outages, estimates of repair, and safety information regarding outages, visit PGE.com.