Canine charity resale shop burglarized
Shop reports jewelry, figurines, cash box stolen
– Meade Canine Resale Shop in Atascadero was burglarized between Monday night and early Tuesday morning, according to shop owners and volunteers. The store is located at 4303 El Camino Real in Atascadero. The thrift store is in a small strip mall across from the old K-Mart Store.
Volunteer Carol Gibson says when she opened the store Tuesday morning she noticed immediately that something was wrong. The jewelry case was empty. Racks of jewelry were almost barren, and the remaining jewelry was askew. She immediately called the owner, Charlotte Meade, who operates the thrift store to support Meade Canine Rescue and Sanctuary.
When Atascadero Police arrived they discovered a broken window in a storage room through which the burglars entered. The burglars reportedly systematically dumped valuable jewelry from trays in the jewelry case into a bag or backpack and replaced the empty trays in the case. They stole other jewelry from plastic containers in a storage room in the rear of the store.
Besides jewelry, the only other missing item identified so far is a collection of Wizard of Oz figurines. They took all the figurines but left an angel in the wooden display case. They also took a cash box with an undisclosed amount of money.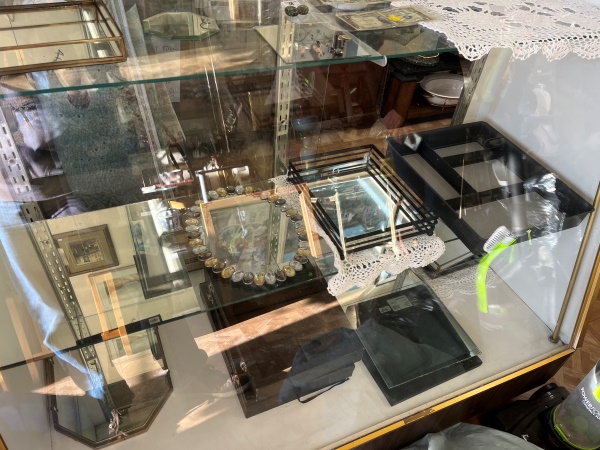 "The burglars knew the store," Gibson said, "They knew we had valuable jewelry and they knew where the cash box was located. They were familiar with our thrift store."
Gibson estimates about $8,000 in jewelry was stolen.
The police found muddy footprints behind the store, but no tire tracks. The burglars may have parked their car elsewhere, or they may have been on foot. The police investigation into the burglary continues.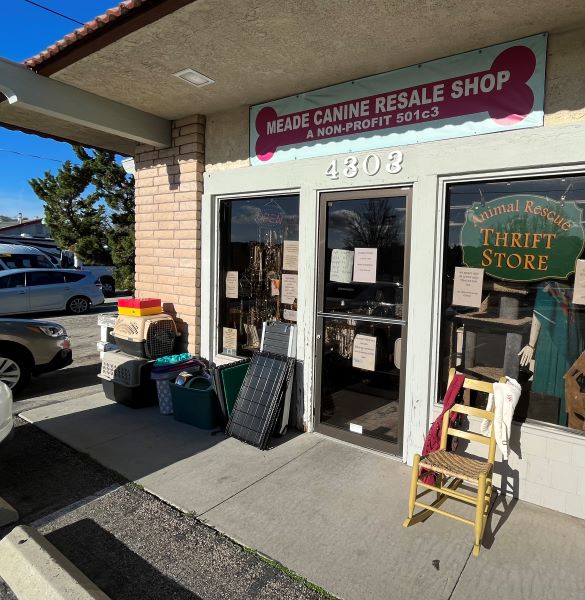 Meade Canine Rescue and Sanctuary rescues dogs. The nonprofit also pays to have the dogs spayed or neutered. Their motto is, "Giving old dogs new lives." The thrift store pays to support the operation and vet bills.
The rescue recently rescued 17 puppies dumped on Highway 101 near Cuesta Peak. So far, they have found homes for all but four of the puppies.